Our homemade success.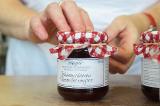 Attention to detail
Each glass is fitted by hand with the characteristic fabric roundels and checked before it leaves our premises.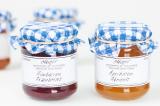 Our recipe for success
No more than 30 kg of fruit are processed with each batch. This preserves the natural texture of the fruit.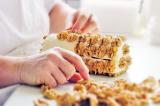 Homemade and handmade
Wallnut cheese production like in old times: Handmade from choice ingredients.
«Hausgemacht» - German for home-made - labels our products that used to be made at home and sold in small portions.

Not much has changed since the time when our grandfather cooked the jams down in his cellar: also today we care for highest quality of all ingredients, all of which are cooked in small amounts.