Homemade, since more than 40 years.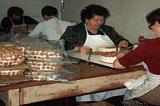 The beginnings
Walnut cheese production: housewives working at simple wooden tables in the basement.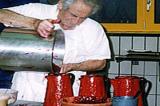 Hand-made
Walter Ottiger sen. bottling jam.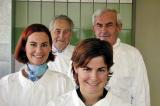 Three generations
Walter Ottiger sen., Walter Ottiger jun., Carmen Ottiger
Katja Ottiger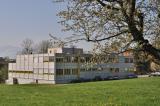 At home in Ballwil
Since 1988, our production site is located in the picturesque Luzerner Seeland.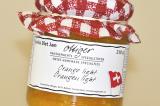 International
Since recently, our jams are also available in Southeast Asia.
Since 1973, the Ottiger family produce home-made specialties. Some impressions of our history:

In 1969, Walter Ottiger jun. made his idea come true and started to produce his walnut cheese specialty. A group of housewives helped him to evenly press walnut after walnut into the cheese loaves.

While searching for local specialties, father and son came across a tome of old recipes in 1973. In a car garage (!) in the village of Baldegg they heated their cookers as early as 4 o'clock in the morning to have a head-start before the wasps - attracted by the sweet jam - woke up.

Due to lacking space for the walnut cheese and jam production and because of increasingly strict hygiene rules, W. Ottiger jun. moved his business to a new location. In late 1988 the newly built workshop in Ballwil was inaugurated. 1997, the firm got its ISO 9001 certification.

Carmen (since 1992) and Katja (since 1995) represent the third generation of the Ottiger family to continue the production of homemade specialties. On 1 January 2000, Walter Ottiger jun. handed the business over to his daughters. After a few years, Carmen Ottiger left the operation to start a family.

In the meantime, the hard work in Ballwil yields first results.
The launch of a new range of products such as homemade sauces and seasonal cheese specialties marks only the first addition to the popular homemade brand.

Since 2008, our company is certified according to the IFS Standard (higher level).

This proved a solid foundation to also export our products. Thus, you can find our jams also in select stores in Germany.

In 2013, 40 years after its foundation, the private firm "Geschwister Ottiger Hausgemachte Spezialitäten" was transformed into the "Ottiger Spezialitäten AG".